B-BOX is a collecting container for the interior of public institutes, businesses, shops and similar premises. The types of batteries placed into B-Box include alcaline batteries, lithium batteries from mobile phones, round batteries from calculators, etc.
Application: in building interior


Material: hard paper cardboard


Dimensions: 25 × 24 × 38 cm


Volume: 23 litres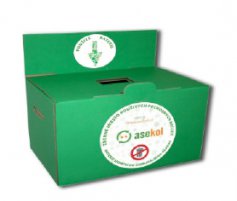 What goes into B-Box?
used batteries and accumulators (e.g. alcaline batteries, lithium batteries, round batteries, etc.)
Advantages:
free B-Box delivery based on a concluded contract
free collection
B-Box instalation conditions:
valid cooperation contract for collection of used portable batteries
Collection of a full B-Box:
When a full B-Box is collected, an empty one is brought to replace it. When a B-Box is full or after a collection order has been placed, the B-Box needs to be closed on the top and sealed with adhesive tape.